From everything I've read and seen, the GR Yaris had inconsistent dyno numbers from back to back runs on the dyno. They were also able to solve the issue. Let's figure out if that's the same case for the GR Corolla, and how to dyno it correctly for consistent numbers. Being AWD, this can be a challenge. So far, there is one dyno test done on the GRCorolla, that I know of, thus far.
On the GR Yaris:
It appears that the rear wheels are overdriven compared to the front wheels, and the drive system will fight the 4wheel drive dyno, until it settles on a reduced power mode... which is obviously not correct, not consistent, and not giving you what you want... the correct hp reading, at where the rubber hits the road, when your actually driving it.
Background: Typically, an AWD car will lose 20% power from the crankshaft through the flywheel, transmission, differential(s), driveshafts, spindles/knuckles, wheels, then to where the rubber hits the road. FWD loss is 14%, RWD loss is 17%, typically. With bigger&heavier wheels, those losses can vary up to 5% more.
The accepted dyno (aka dynanometer) in the USA, to give correct dyno numbers is a Dynojet. Other dynos may read higher or lower... but, basically when a new car is ready to be released in the USA, SAE (Society of Automotive Engineers), a regulatory board in the USA, will follow a set procedure and put a car on a Dynojet to find the reading. They then do a reverse calculation, and inform the manufacture the highest hp number the manufacture can advertise/state, without going over. Typically, today, in modern performance cars, they are rated much less than the number SAE is giving them. Example 306hp fk8 CTR puts down 290whp (wheel horsepower), which 306hp is clearly underrated by Honda. The 275hp Veloster N puts down 235whp, which is perfectly correctly rated with 14% loss. The 286hp Elantra N DCT puts down 280whp. The 276hp Elantra N manual puts down 260whp. Typically autos are making more whp than manuals, despite equal or similar ratings due to stricter db sound restrictions placed on manuals, than the auto.
And finally,
From what I've read and seen on the GR Yaris, it was necessary/found to put it in FWD mode, and then they were able to get consistent hp readings. They were able to do this [once on a 2wheel dyno] by simply pulling the hand brake. Motive Garage, in Austraila, also mentioned that they pulled "the plugs" under the back seat, which I assume to mean electrical connectors, as an extra precaution... After studying this further, it seems that the GR Yaris has an AWD test mode (aka dyno mode), which you have to enter a sequence of pedal&handbrake presses AND ignition on/off sequences. It's not just simply pulling the handbrake.
I also believe that Toyota put in this feature for ease of towing, on a tow dolly, where two wheels are rolling (the front wheels) and two wheels are on the tow dolly with the parking brake on. Can someone please look in their owners manual and see what it says under "towing your vehicle?" See post #5 in this thread
here.
There have been 7 dyno tests done so far, 258.6awhp (dynojet), 252awhp (Mustang Dyno), 219ahhp (Dynapack), 247fhhp (Dynapack), 299fwhp (Mustang dyno, same as the one that read 252awhp, but was put in dyno mode), 271whp (Dynojet), and 305whp with a +6hp catback exhaust (dynojet). awhp=all wheel hp; ahhp= all hub hp; fwhp= front wheel hp; fhhp=front hub hp.
From acceleration testing against an FK8 CTR, I would estimate that the GRCorolla would put down 280whp, vs 290whp CTR. Losing 20whp because of the fight against the 4wheel dyno, seems about right. We need to figure out if that fight is the case for the 260whp, OR if 260whp is just what it is because of the extra loss to the rear wheels (doubt it), AND/OR if we can get a 2wheel drive dyno test/solution to get the correct reading.
We now have 2 dyno tests we can trust, 299whp and 305whp w/catback exhaust, because:
1) they used the proper dyno mode
2) consistent back-to-back results
3) peak power was at 6400rpm (Toyota states peak power is 6500rpm)
4) they were able to take it to the limiter of 7200rpm (not artificially limited at 6800rpm) like Just driven had
Here's the 1st dyno done, from carson.menendes (258.6awhp, dynojet)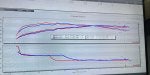 2nd dyno done, from Limit+1, all wheel test (252awhp, Mustang Dyno)
3rd & 4th dyno done, from Just Driven (247fhhp, and 219ahhp, but w/artificial limiter at 6.8k rpm, dynapack)
They are currently reevaluating it, and I sincerely hope they figure out if there is an issue, or if relative to other cars they dyno'ed, this is correct.
5th dyno done, from Limit+1, in dyno test mode (299fwhp, dynojet)
They are going through a re-calibratiom procedure, to double check everything.
6th dyno done, not in dyno mode from 6th Element Engineering (270.68whp, not in dyno mode)
They will be redo'ing their test in dyno mode.
7th dyno done, in dyno mode from 2-J Racing (305whp with +6hp cat back exhaust (6hp gain from exhaust is assumed, not tested))
Here's the final conclusion, in theory, on how to properly dyno the GR Corolla [for consistent numbers]:
Enter Inspection (Chassis Dyno) mode:
1. Engine is off, handbrake on
2. Turn ignition switch to on
3. Release handbrake
4. Press brake pedal and hold
5. Turn engine on
6. Pull handbrake
7. Release brake pedal, then press 2 times, and hold
8. Release handbrake, then pull 2 times, and hold
9. Release brake pedal, then press 2 times, and hold
At the end of this procedure, VSC and TRAC will automatically also be disabled, and verify by seeing TRAC OFF and VSC OFF in the cluster. You can also verify by putting the front of the car on jack stands and watching the front wheels rotate easily with the parking brake applied. Your GRCorolla is now FWD and ready for a 2wheel dyno.
10. Turn off car when done, inspection/dyno mode will end. Leave car off for 60sec, as turning car back on within 60sec, you will re-enter dyno mode.
I have developed a criteria to define a correctly done dyno test, if it meets all 4, then I accept it as a correctly done dyno:
1. Car is said to be tested in dyno mode
2. Back-to-back runs show consistent numbers of + or - 2hp (example Limit+1 dyno'd 296, 299, 298)
3. Peak power is at 6400rpm or higher (Toyota states peak power at 6500rpm)
4. There is no artificial limiter, and the dyno graph shows reading through 7200rpm (unlike Just Driven showing 6800rpm, and their test met none of these)
Also, remember that a dynojet is correct correct reading, not low, not high, and a correction factor must be used (STD or SAE), incase of high altitude (low barometric pressure), etc.
Only Limit+1 in FWD, and 2J-Racing, meet the criteria. The rest meet #4 maybe.
If you just want to defeat VSC and TRAC without going to FWD:
When the VSC off switch is pressed and held for 3sec or more with the vehicle stopped, you have entered VSC off mode (TRAC will be off, VSC will be off). TRAC OFF and VSC OFF will be illuminated in the cluster. You could use this on the street/track/4wheel dyno. At your own risk. Lets see if you can do a drift now, and not crash, lol.
Please, correct me where I'm wrong, and please add what you have found.